SV-NED INC.
Silicon Valley - Nigerian Economic Development
Building Bridges of Prosperity Between Two Economies
SVNED CORDIALLY INVITES YOU TO
OCT 2ND IN SILICON VALLEY
We would like to invite you to an outstanding event hosted by SVNED for Vogue Pay coming up on Oct 2nd, 2019 in Silicon Valley, from 6:00pm to 9:00pm. It would be a great honor to have you as our guest.
What is VoguePay?
VoguePay is an award-winning online payment gateway, founded in 2012 to enable individuals and businesses send and receive payments globally. The unique proposition of VoguePay is making multi-channel and cross-currency transactions safer, cheaper and more accessible for businesses and consumers in Africa and internationally. Today, VoguePay offers payment services to a global audience of 100,000 merchants in key markets like North Americas, South Americas, Asia, Europe and Africa.
During this event, VoguePay will introduce for the very first time, 'VoguePay Digital' (VPD); a digital bank built to serve the Diaspora and Expats community's personal and business financial needs. The borderless banking suite will offer customers checking account services, savings, loans and mortgages in the jurisdictions of VoguePay's banking and savings partners with a single digital financial identity, using blockchain.
The service will be deployed in partnership with banking partners that have secured + 5 million accounts across Africa. VoguePay operates from the United Kingdom, Estonia and Nigeria, thereby combining talents and experience of Africans and European finance sector best practices to deliver a modern way for merchants and individuals end-users for making and receiving payments globally.
This event is a round table discussion between the executive leadership of VoguePay and investors from the Sales Industry, Banking Industry, Angel investors, Airline, Digital TV Industry, Africans in the Diaspora and influencers from around the world including the U.S. Silicon Valley, Nigeria, Ghana, UK, China, India, and Canada.
Therefore, this will be an outstanding opportunity to join in and meet firsthand, key decision makers pushing such economic agenda's for the financial market in emerging economies.
Please let us know if you would like to attend the event, we are looking forward to learning from your perspective!
We would like to invite you to an outstanding event and fundraiser hosted by SVNED for SME.NG coming up on Aug 2nd, 2019 in Silicon Valley, from 6:00pm to 9:00pm. It would be a great honor to have you as our guest.
What is SME.NG?
SME.NG is an impact investment platform that invests in Nigerian SMEs to realize environmental, social and financial returns. Within SME.NG, the team you will have the pleasure to meet have established the 1st impact fund for women at the bottom of the pyramid in Nigeria called "The Ebi Fund". In addition to the fund, the team aims to establish the very 1st all-women accelerator, SheWorksHere that facilitates access to financing and markets. The aim of the fund and accelerator is to aid women entrepreneurs to accelerate their business growth through funding and to enhance women's ability to compete in the formal economy.
The event is a networking event between the Partners of SME.NG and Venture capitalist firms, Angel investors, foundations, Africans in the Diaspora and influencers from around the world including the U.S., Nigeria, UK, China, Silicon Valley, India, and Canada.
Therefore, this will be an outstanding opportunity to join in on this mission and meet first hand, the decision-makers pushing such a Nobel initiative.
Please let us know if you would like to attend the event, we are looking forward to learning from your perspective!
Speakers:
Jordan Wehbah Bay Angels
Thelma Ekiyo - SME.NG Managing Partner Nigeria
Phil Southwell - SME. NG Partner UK
Francis Adenuga - True Leaf Church Brothers / Western Growers
Entertainment:
Violist: Christina and Alexa Simpson
Artist: Dunnie
Entrepreneurs:
BUNCH Up - Sport Tech
CV Europe - Esports
Waltoria - Blockchain Fintech
FM Capital Group - Venture Capitalist and Investment Advisor
Fairrer Samani Group - Blockchain & Ed Tech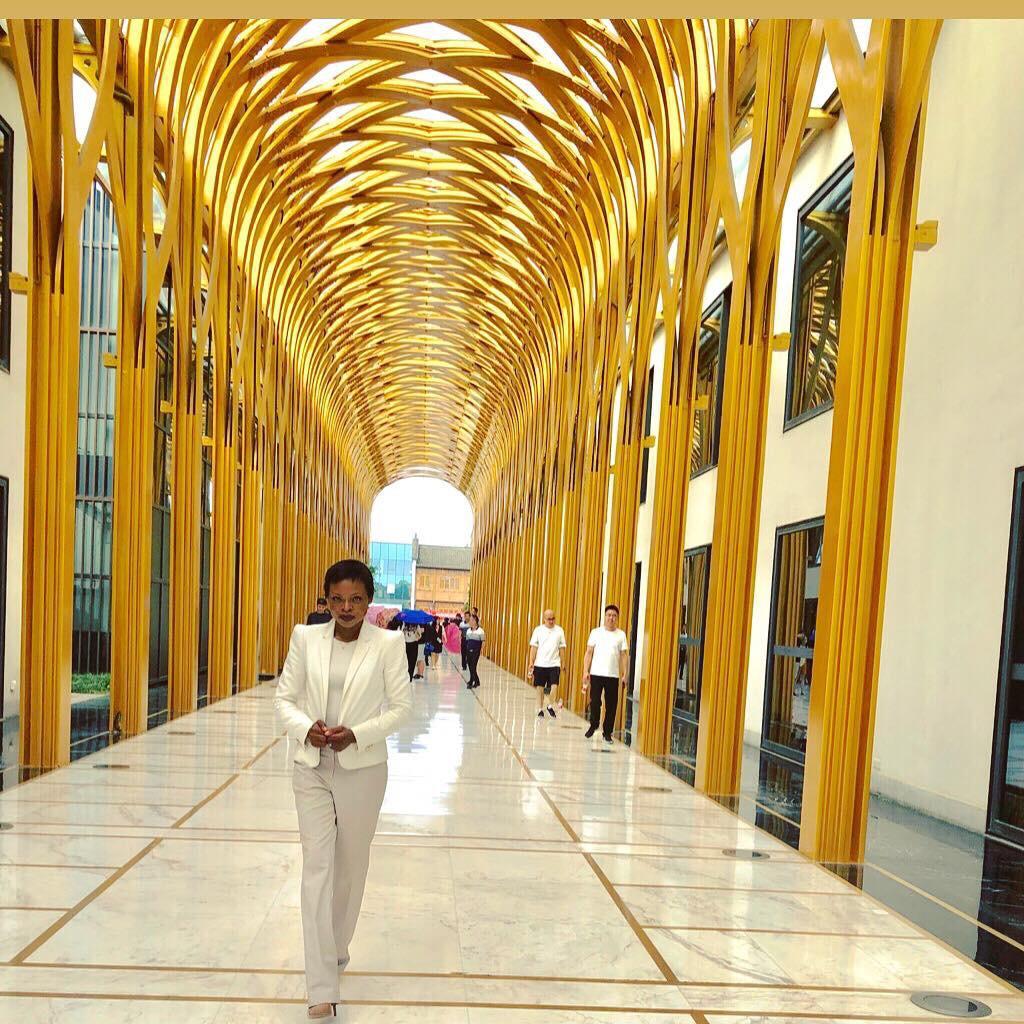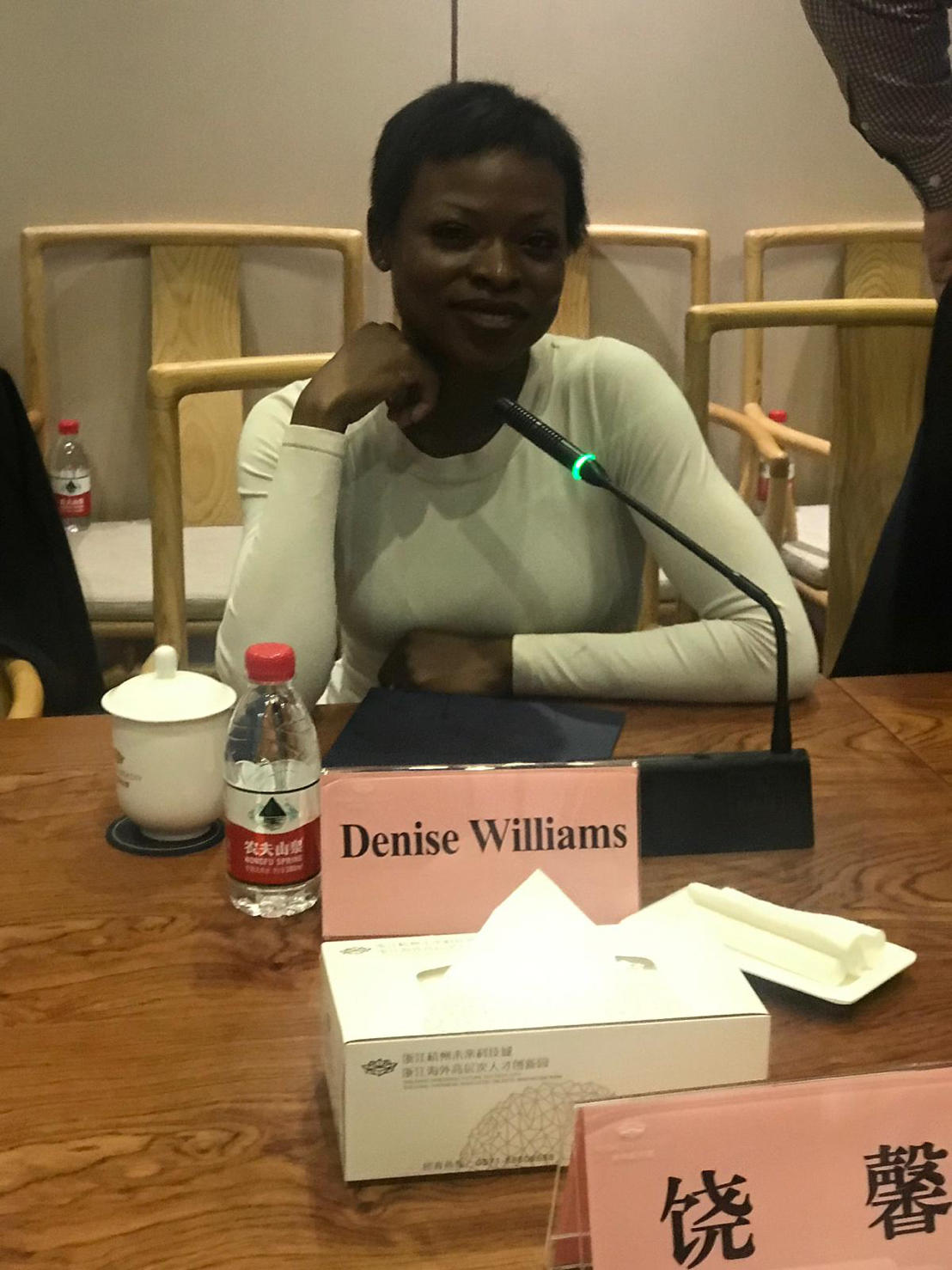 #SVNED Denise Williams President/CoFounder Silicon Valley Nigeria Economic Development SVNED Inc. explores Dream Town Innovation Center in Hangzhou, CHINA 🇨🇳 Hosted by Bay Area Council.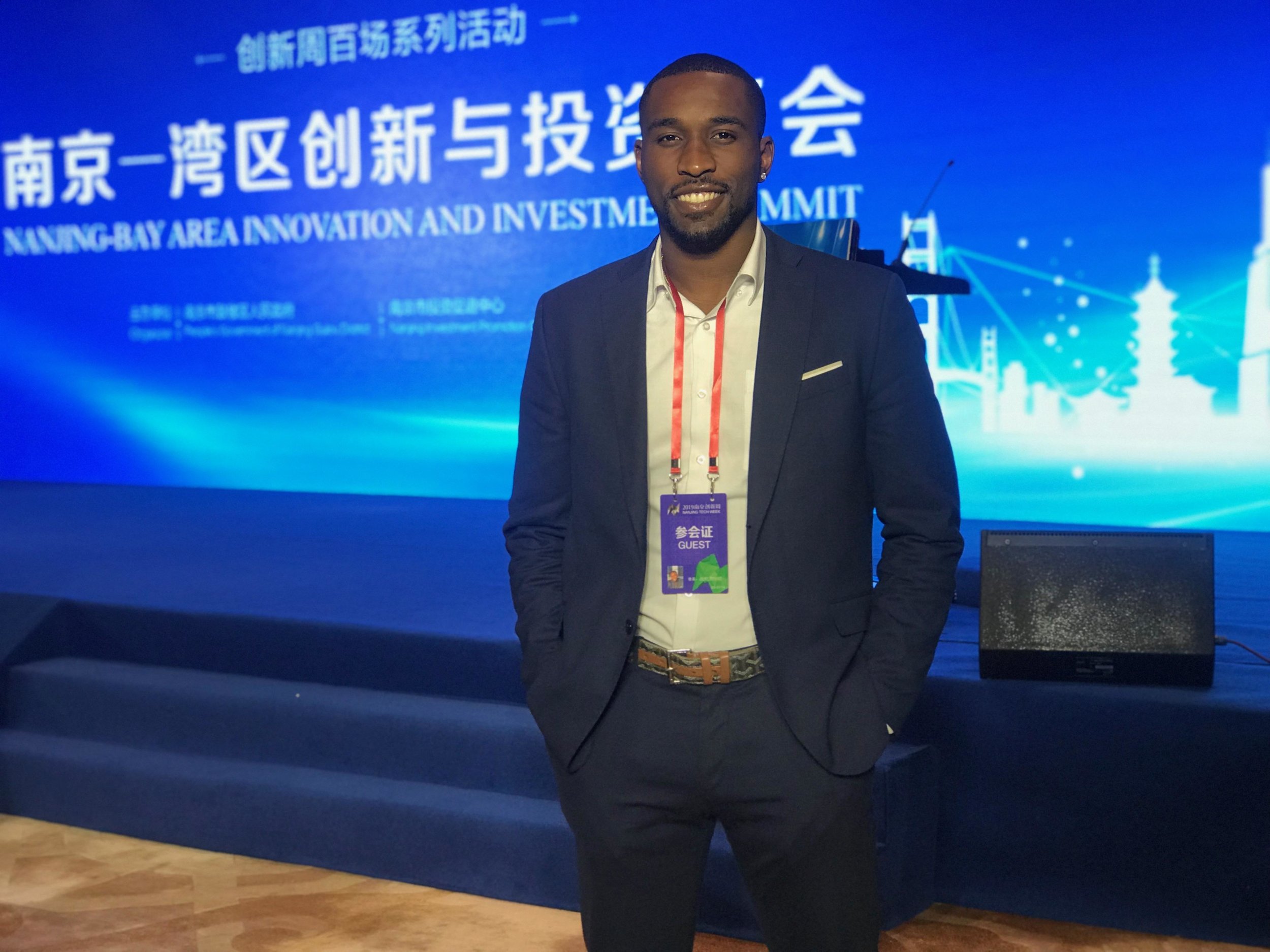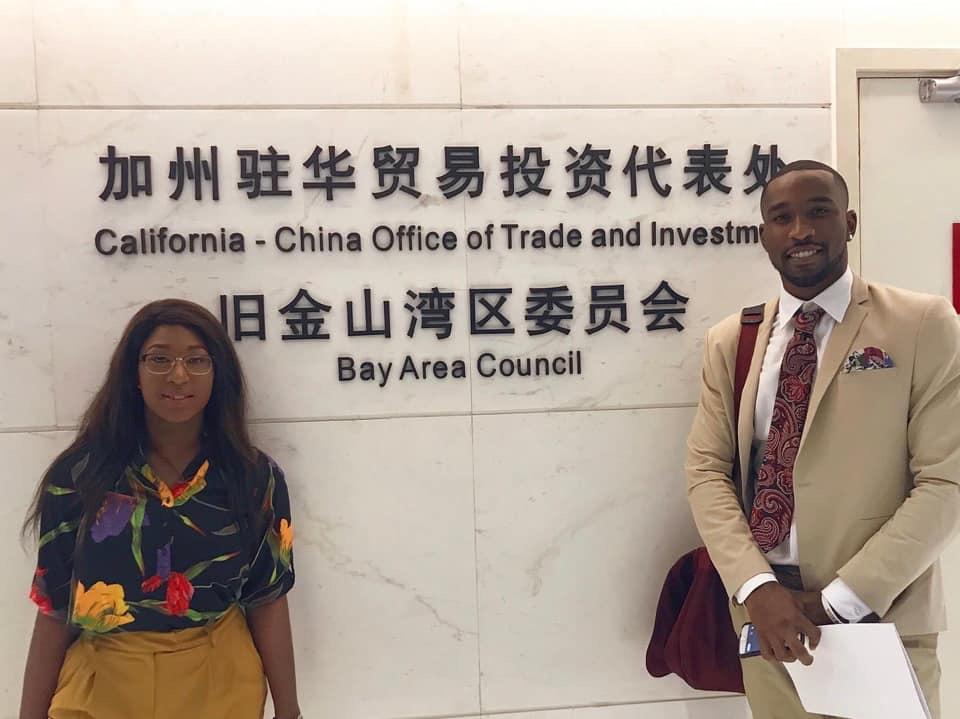 #SVNED is beyond proud to see them represent on this Global and Grand stage. Denise Williams President/CoFounder led SVNED Team from Silicon Valley Nigeria Economic Development SV-NED Star players, Kasha B Iliya and Javan Stewart who both have played integral roles in their capacity as Jr. Board Members, of SV-NED Inc. It brings us so much joy to see them light up the stage in all of their glory, to discuss opportunities for Cross Boarder business opportunities. Special thanks to our gracious host, Bay Area Council.
It was a pleasure attending the Holberton School Diversity and Inclusion in Gaming AR/VR ( #AugmentedReality #VirtualReality ) Special thanks to Tech enthusiast and Investor Ne-Yo and Cofounder of #Holbertson school Sylvain Kalache for hosting such a great event! Also on the panel were #Women executives in Gaming Stephanie Magnier from Ubisoft and #Unity
SVNED President & Cofounder Denise Williams was selected as a guest judge at the 2019 #InnoSTARS Pitch Challenge, choosing 3 lucky winners out of 22 StarUps ready for investments and expansion into the hashtag#Chinese marketplace. Exploring #CleanTech #AI #Blockchain #MedicalDevices #SolarEnergy and #TurbineEnergy. Special thanks to leadership of Bay Area Council, US China Innovation Alliance, and Baker Botts law firm for being gracious hosts and event sponsors. #SVNED #PaloAlto
The 2019 InnoSTARS competition is a platform that connects U.S.-based technology companies with Chinese investors, corporates, and strategic partners. Organized by the U.S.-China Innovation Alliance (UCIA) and China Science and Technology Exchange Center (CSTEC), this competition aims to provide U.S.-based technology companies a better understanding of the market opportunities available in China.

Qualified preliminary winners will be extended an invitation to join the 2019 China road-show to compete in the InnoSTARS Semi-finals, and potentially even the finals. The road-show will include introductions to Chinese corporates, universities, regulators, and investors interested in U.S. innovation. Semi-finalists' round-trip China airfare, hotels, and meals are covered by InnoSTARS, and winners receive cash prizes and media recognition.
INDUSTRIES OF FOCUS
Advanced Manufacturing

Biopharma

Energy

Environmental Technology

Information & Communication Technology

Materials

Medical Device, Digital Health & Diagnosis
CARTIER WOMEN'S INITIATIVE AWARDS
President & Cofounder of SVNED Inc. Denise Williams
KEYNOTE SPEAKERs, president & ceo cyrille vigneron of cartier, OSCAR AWARD WINNING ACTRESS LUPITA nyong'o AND MARIA SHRIVER FORMER FIRST LADY OF CALIFORNIA
CYRILLE VIGNERON
PRESIDENT & CEO OF CARTIER
TED CARPET
IDEAS WORTH SHARING
PRESIDENT & COFOUNDER OF SVNED INC., DENISE WILLIAMS IS WITH COFOUNDER of 42 silicon valley KWAME YAMGNANE at the "africans in tech" series
42 SILICON VALLEY AMBASSADOR
JOSH TRUJILLO
42 SILICON VALLEY
leading tech CODING SCHOOL
SVNED raises Capital to train for 250,000 people in w. africa by 2030
KEYNOTE SPEAKER DENISE WILLIAMS AT THE INAUGURAL CELEBRATION OF INTERNATIONAL DAY OF EDUCTION
Maiden Celebration of International day of Education
24 Jan 2019 - January 24th marked the inaugural celebration of the International Day of Education. The United Nations observed the International Day of Education for the first time to emphasize the action required to achieve the global education goals and targets in line with the 2030 Agenda for Sustainable Development.
The celebration raised awareness on quality education for peace worldwide, including its contribution to poverty eradication, environmental sustainability and building peaceful and resilient societies.

The event brought together the voices of governments, the UN system, private sector, civil society, faith-based organizations, teachers, academia and youth, united in their call to make education a leading global priority.
Which included: The Permanent Mission of Norway, Ireland, State of Qatar, Singapore, Nigeria and Harvard University, IBM, SV Black Chambers of Commerce, Black Tie Magazine, Collegiate Congress, and SV-NED Inc.
SVNED Inc ADVOCATING FOR 'International Day of Education' in partnership with the Permanent Missions of Nigeria, ireland, singapore, state of quatar, unesco
SV-NED Inc. is proud to host Women in Innovation & Technology at the United Nations, New York U.S.A
WOMEN IN TECH, SV-NED, LINKEDIN AND IBM AT THE UNITED NATIONS
AFRICA IN TECH SERIES KEYNOTE SPEAKER, PRESIDENT & COFOUNDER DENISE WILLIAMS
VICE PRESIDENT OF THE FEDERAL REPUBLIC OF NIGERIA, HIS EXCELLENCY PROF. YEMI OSINBAJO & CHIEF TEMITOPE AJAYI CHIARMAN/CEO SVNED IN SILICON VALLEY
TOWN HALL MEETING WITH H.E. PROF. YEMI OSINBANJO IN SILICON VALLEY, CA
ONE ON ONE DISCUSSION WITH SILICON VALLEY GIANT, LINKEDIN COFOUNDER ALLEN BLUE AND H.E. PROF. YEMI OSINBAJO, VP OF NIGERIA.
2ND IMMERSION PROGRAM WITH STANFORD UNIVERSITY PROFESSOR EMERITUS.
1st SV-NED Economic Summit
GALAXY TV INTERVIEW: Silicon ValleY, where you can be a billionaire overnight- CHIEF Temitope Ajayi
DAY 1: Oriental Hotel Host 2nd Immersion Program - Dr. Sam Haddad of Stanford University with Immersion Program Participants
SV-NED INC. TO HOSTed 2nd IMMERSION PROGRAM IN NIGERIA
This program is designed to bring together a sophisticated group of individuals by advancing their educational and professional development careers. SV-NED Inc.'s mission is to provide in-person facilitated training by bringing into country the best and brightest professors from ivy league universities in the United States.
The key objectives for the 2nd Immersion Program (IP) is for professors and technology breakout session trainers to evaluate the necessary building blocks for an effective business model. Professors for the IP are expected to discuss how startups use business models to drive innovation. The professors and participants will consider how uses of a business model differ between startups seeking product/market fit, and a larger corporation which has already found it. The professors will go over how to fill out a business model canvas, how to identify risk in business, and how to prioritize tasks based on business assumptions. They will then translate this theory into designing practical experiments that drive progress on individual participants business models. Finally, they will discuss pivots, and how to change the direction of various businesses while staying true to individualized visions.
AT THE STATE CAPITOL BUILDING WITH STATE LEGISLATORS + HIS IMPERIAL MAJESTY KING ENITAN ADEYEYE OGUNWUSI OJAJA II THE OONI OF ILE IFE IN SACRAMENTO CA USA
WITH THE LEGISLATORS: STATE SEN. STEVEN BRADFORD; SUE KATELEY, HIS CHIEF OF STAFF; JAY DICKENSON, THE HEAD CONSULTANT TO THE CALIFORNIA SENATE COMMITTEE ON ENERGY, UTILITIES AND COMMUNICATIONS; JASON LAW, SPECIAL ADVISOR FOR INTERNATIONAL INVESTMENT RELATIONS; AND DIANE DOMINGUEZ, SPECIAL ADVISOR FOR INTERNATIONAL TRADE. WITH THE KING ARE CHIEF TEMITOPE AJAYI AKA MAMA DIASPORA CHAIRMAN/CEO SILICON VALLEY NIGERIA ECONOMIC DEVELOPMENT SV-NED INC WWW.SVNED.COM, MR STEPHEN OZIOGBO PRESIDENT AFRICAN TECHNOLOGY FOUNDATION AND ALL HIS ENTOURAGE FROM NIGERIA
H.I.M. Ooni of Ife, Makes His Grand Entrance to Silicon Valley
Silicon Valley - Nigerian Economic Development SV-NED Inc. & African Technology Foundation is proud to host his imperial majesty, the Ooni of Ife in Silicon Valley
Ooni of Ife will use his visit to promote the bridge between Nigeria and the Technology capital of the world, Silicon Valley. His scheduled to make a visit Cisco (CSCO), IBM (IBM), Intel (INTC) and Tesla Motors (TSLA). In addition, education and youth empowerment agendas are on his priority list, H.I.M. Ooni of Ife will also be meeting with the key representatives of ivy league institution such as Stanford University to discuss opportunities for exchange international programs.
Minister Dan Ali Official Visit to Silicon Valley to Help Launch the first Immersion Program in California
Nigeria is creating a much-needed synergy stimulating interests of foreign international investors. These investors want to look away, but they can't resist. Nigeria has become a leader from behind, under the great leadership of President Buhari and Vice President Osinbajo's administration continuously promoting ethics and integrity first. Nigeria has become a fertile ground for investments, and the Silicon Valley – Nigerian Economic Development Inc. (SV-NED), is planting the first seeds. With a company mission to re-establish economic relationships with technology partners in Silicon Valley, SV-NED has made significant progressive connections between Silicon Valley leaders and Nigeria's Minister of Defense Dan Ali, and just recently, the leader of the Yoruba Nation, His Imperial Majesty Ooni of Ife.
SV-LINKS + SV-NED INC. IN COLLABORATION WITH THE NIGERIAN EMBASSY WASHINGTON D.C.
BRINGS YOU THE 1ST NIGERIAN IMMERSION PROGRAM
SEPT 24TH - 30TH 2017
Silicon Valley Links (SV Links) is a non-profit organization that educates business communities of emerging countries by connecting them with the professional community of Silicon Valley. To support this mission of fostering a culture of entrepreneurial spirit and innovation among entrepreneurial communities, SV Links organizes Immersion Programs and Investment Seminars in Silicon Valley.
OUR FOCUS

The central focus of SV-NED Inc.'s mission is to uplift the Social welfare concerns around creating great opportunities for recent college graduates in Nigeria in the field of Technology and Engineering and for women. SV-NED Inc.'s mission presents strategies that utilize intellectual and people capital available in Nigeria, to orchestrate a program that would create employment opportunity for the youths, as well as encourage entrepreneurship in the country.
What does the future hold for Nigeria and africa?
SV-NED Inc. has answers
Increase technology partnership

Reduce unemployment

Reduce dependency on foreign imports

Promote entrepreneurship

Secure credibility through building new relationships

Leadership and managerial skills
"Your problem is to bridge the gap which exists between where you are now and the goal you intend to reach."
-Earl Nightingale
Establish a bilateral economic relationship between Silicon Valley, Nigeria and emerging countries in Africa.
Identify Silicon Valley Tech companies who are interested and able to hire Nigerian engineering, computer science and tech graduates utilizing the H1-b Visa program.
Partner with the City of San Jose and Silicon Valley companies to develop a certifiable curriculum for training potential Nigerian hires.
Design and develop data centers for managing performance metrics for re-establishing credibility efforts amongst trading partners.
Develop infrastructure for Nigerian based call centers to support technology firms in Silicon Valley, in the areas of customer service and technical support needs and more.
SV-NED Inc. has first-mover's advantage
Introducing seasoned and emerging tech firms to the interested federal government of Nigeria.
Facilitate the creation of technology, manufacturing plants and call centers that would increase employment of skilled labor workforce of recent college graduates of Nigerian youth.
SV-NED Inc. is ready to secure partnerships that will develop cutting edge training and technology programs.
Engage job referral programs, that would expand U.S. technology businesses in Nigeria & bring Nigerian technology firms to Silicon Valley in trade.
SV-NED Inc. is Ready to Secure Additional Partnerships in Silicon Valley